Raising Animals
This is an overview the various animals of the game. Though they're not required for a farm to be successful, some animals can nonetheless contribute quite a bit to a farm's profits. Here's how to obtain, raise, and (sometimes) profit from the animals of the game.
The Dog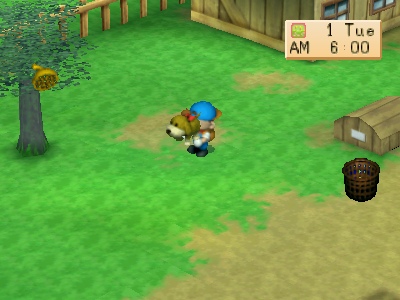 Your faithful canine companion is with you the whole time, and you might as well get to know him. Pick up your dog daily, and be sure to whistle to him as well. Don't leave him or any other animals outside during bad weather.
At the beginning of the first Fall, the merchant Won will stop by to sell you a dog ball, which you can use to play with your dog and train him for the Dog Races on Winter 10. Winning doesn't give you anything, but it does show just how well you and your dog get along.
The Horse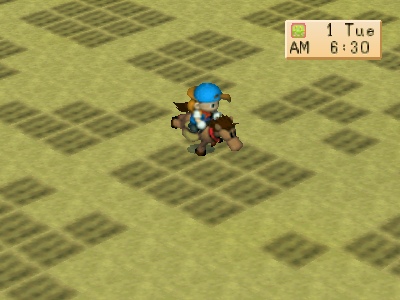 If you visit Yodel Ranch during the first Spring, Barley will give you a pony, free of charge! To take care of it, be sure to brush it daily, and whistle to it as well. If you forget to get your pony from Barley early on, just plant a nice big pasture to impress Barley, and he'll give you one as a gift.
Once your pony is mature (Barley will check in on him when he is, and might take him away if you mistreated him), you can ride him about the farm, which makes him stronger and a better competitor in the Local Horse Race.
Chickens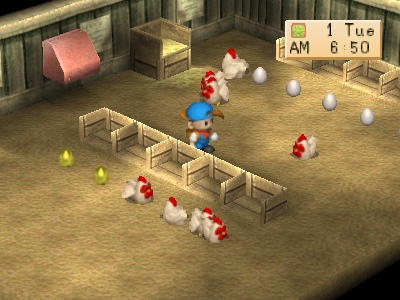 Chickens are easy to tend to. Just Be sure to feed them daily, and they'll love you in no time! But don't slip up on feeding them, or they'll stop laying eggs for a few days. You can incubate eggs to grow more chickens, and this actually is a very good idea if you want more hens. Chickens can be bought from Chicken Lil's, open every day but Sunday from 11:00AM to 4:00PM.
A happy chicken is a tough chicken. If you have a hen who likes you enough, you can take a stab at winning the Sumo Chicken Festival on Summer 7. Hens that win the contest begin laying Golden Eggs!
Cows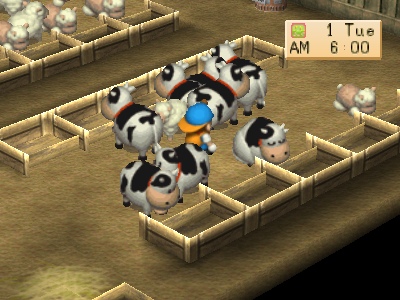 Cows are decidedly more high-maintenance than chickens. They're still not tough to care for, though. Talk to your cows daily, and be sure you feed them, too! Cows who aren't fed don't produce milk for a few days. Once a cow matures (you'll know, trust me), you can use the Milker tool (sold by Saibara the blacksmith) to draw milk from them. Cows can be bought from Yodel Ranch, open every day but Monday, from 9:00AM to 3:00PM.
Every year, on Summer 20, you have a chance to strut just how happy one of your cows is at the Cow Festival. If your bovine is the best of show, it'll produce Golden Milk!
Sheep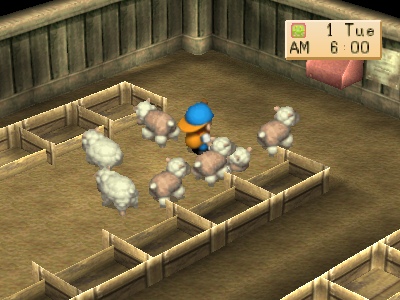 Sheep are similar to cows, in that you need to talk to and feed them daily. Their wool won't grow as fast if you forget to feed them. You can clip wool from your sheep using the Clippers (bought from Saibara), though keep in mind that it'll be 5 days before their wool grows back if you do this. Like cows, sheep can be bought from Yodel Ranch, open every day but Monday, from 9:00AM to 3:00PM.
A well-loved sheep can win the Sheep Festival on Fall 21. Doing so will cause them to start producing Gold Wool! You can only enter an unshorn sheep in the contest, though, so plan ahead if you want your woolly buddy to win.
The Maker Machines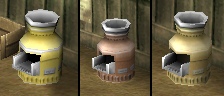 There are three Maker machines you can buy: the Mayo Maker, the Cheese Maker, and the Yarn Maker. The Mayo Maker won't be for sale until the chicken coop is upgraded, and you can't get the Cheese or Yarn Makers until you've expanded the barn AND bought the Mayo Maker.
Maker machines boost how much money your animals can make you. The Mayo Maker lets you turn eggs into mayonnaise, which sells for considerably more. The Cheese Maker lets you convert milk into cheese, which sells for a lot. The Yarn Maker lets you make yarn from wool, and yarn sells for more than anything else.
But the Maker machines aren't cheap! At 10,000G a pop, you'll have to think ahead if you plan to get them. You'll also need Adamantite, a rare ore which can't be found in the normal mines...



Tools of Your Trade

You can't do much about the farm without your tools. This is an overview of all the handy items that you can work with.

Upgradeable Tools
These tools are the indispensable primary tools of the game: the hoe, sickle, ax, hammer, and watering can. Once you've used them enough, you can upgrade them by digging up the appropriate type of ore from the mines, taking the tool to Saibara, and having him upgrade them.